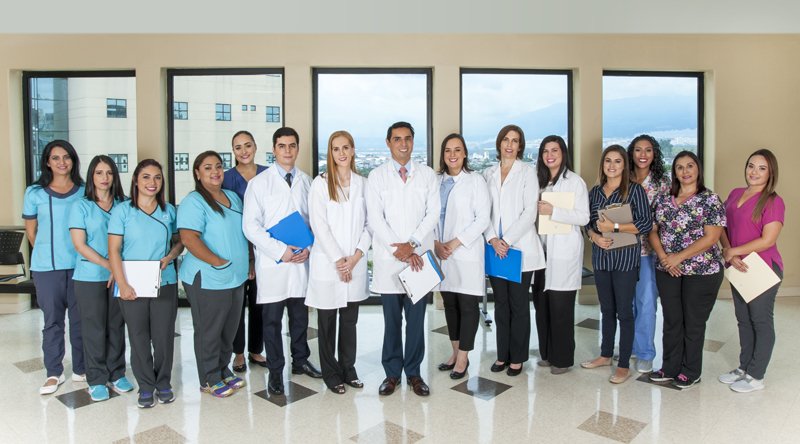 Dr. Eugenio J. Brenes is a US trained Prosthodontist and has been Advance Dental Costa Rica´s Director since 2007. He is also currently the Director for the Dental Department at CIMA Hospital, where our office is located.
Dr. Brenes studied at Loma Linda University, in Los Angeles California, where he did a 4 year residency in oral restorations and dental aesthetics. He is certified both in The United States of America and in Costa Rica as a Specialist. He is in charge of dental implants, porcelain crowns, porcelain veneers, implant-supported crowns and dental bridges, porcelain in-lays and on-lays, hybrid implant prostheses and fixed and removable dentures. His specialty is Prosthodontics.
Our team is composed of highly qualified and caring Specialists from all dental specialties, so that, along with all of our staff, we can guarantee our patients will feel comfortable while completing successful and predictable dental treatments.
At Advance Dental Costa Rica, education and academic preparation are important, and so are external certifications, sterilization and safety protocols.
This is why we are certified and approved by international organizations, that verify that our clinic possesses the same sterilization standards, emergency handling protocols, staff training and facility design as any dental clinic in the United States of America. Thus, we can guarantee you will be receiving the highest level of personal safety.
Dr. Eugenio J. Brenes
Director and Prosthodontist at Advance Dental Costa Rica
Director of the Dental Department at CIMA Hospital
Education

Loma Linda University, School of Dentistry – July 2004-July 2007
Residency in Advanced Prosthodontics, Loma Linda, California, USA
Loma Linda University, School of Dentistry – September 2003-June 2004
Preceptorship in Advanced Prosthodontics, and Dental Implants, Loma Linda, California, USA
Universidad Internacional de las Americas – January 1999 – May 2003 Doctor in Dental Surgery
Master in Business Administration, INCAE Business School – July 2010 – November 2011

Publications

Got a Passport, Get a Smile Medical Tourism Magazine, December 2007
Brenes, E.J: Elaboración de Prótesis Totales: Presentación de Caso Clínico, Revista Científica Odontológica, Colegio de Cirujanos Dentistas, Año 1, Vol 1 Pag. 21-21
Abstracts for the American Equilibration Society: Newsletter 2007, 2006, 2005, 2004

Lectures

Costa Rica Academy of Endodontics, Success of Prosthodontic Procedures, Tintos y Blancos, Multiplaza Escazu, June 24, 2010
Implant Overdentures, Principles and Techniques (Hands-on), Feb 9, 2007, Loma Linda University Coleman Pavilion, Wong Kerlee Internacional Conference Center

Teaching Experience

Universidad Latinoamericana de Ciencia y Tecnologia, Ulacit, Co-Director of the post grad lectures on Modern Prosthodontic Techniques, 2009-2010
Faculty of the Dental Restorative Department, Loma Linda University, School of Dentistry 2004-2007

Memberships and Affiliations

Member Academia Costarricence de Prostodoncia
Member of the American Dental Association
Members of the American College of Prosthodontics
Member of the Loma Linda University Alumnus Association
Member of Colegio de Cirujanos Dentistas de Costa Rica

Languages

Fluent in English and Spanish
Dr. Melissa Rojas Zúñiga
Pediatric Dentist at Advance Dental Costa Rica
About

Dr. Melissa Rojas is a Specialist in Pediatric Dentistry and Maxillary Orthopedics. She made her residency at the National University of Colombia and is currently in charge of caring for children of all ages and adolescents at Advance Dental Costa Rica. She completed a 2-year residency at the National University of Colombia, specifically at the Hospital de La Misericordia (HOMI), with emphasis on systemically compromised and disabled children, with an internship for children with cleft palate in Germany and Switzerland. Dr. Rojas is a member of the Colombian Academy of Pediatric Dentistry.
Dr. Sara Gómez
Orthodontist at Advance Dental Costa Rica
About

After receiving her degree as general dentist in 2011 and working in a private practice dedicated to general dentistry until 2013, Dra Gómez iniciated and completed her training as an specialist in Orthodontics in Pontificia Universidad Javeriana (Bogotá).

In 2016, she returns to Costa Rica in 2016 and starts as the specialist in Orthodontics at Advance Dental Costa Rica. Among other affiliations Dra Gómez collaborates as a clinical teacher at the dental school of the University of Costa Rica.

Dra. Gómez is updated in the different current Orthodontic treatment techniques:

Aesthetic orthodontics with porcelain brackets and sapphire crystal.
Invisible orthodontics: Invisalign and Lingual Orthodontics.
Orthodontics with conventional metal brackets and self-ligating.

Dra Gomez is trained in: early treatment (functional orthopedics), corrective Orthodontics and pre-surgical orthodontics (surgical patients requiring orthognathic surgery).
Dr. Samir Tiapa
Endodontist at Advance Dental Costa Rica
About

Doctor Samir Tiapa graduated from the Universidad Central of Venezuela as a general dentist in 2006. From the beginning of his private practice he focused on the management of dental pain leading him to perform post-graduate studies in the area of ​​Endodontics (Roots Canals) in the same university during a 2-year residency, obtaining the title of specialist in 2010. Dr. Tiapa is recognized as a specialist not only by the dental organizations of his country but is also accredited as a specialist in Endodontics by the College of Surgeons dentists of Costa Rica. Currently, he performs endodontics in Advance Dental with state-of-the-art equipment allowing more precise treatments in the control of pain and infection of dental origin.

December 2016: Doctor in Dental Surgery, Universidad de Costa Rica
Octubre 2015: Senior Management Specialist, Universidad Latina de Panamá
January 2010: Endodontics Specialist, Universidad Central de Venezuela.
Thesis: Pharmacology and Therapeutics in Endodontics. Available in Spanish at: http://saber.ucv.ve
October 2006: Doctor in Dental Surgery, Universidad Central de Venezuela.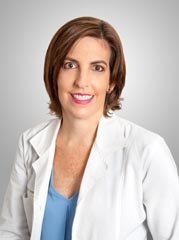 Dr. Rossie Brender
Periodontist at Advance Dental Costa Rica
About

After completing her Doctor in Dental Science degree, Dr. Brender trained for other 3 years in a residency program at Northwestern University Dental School, Chicago, Illinois, where she received her Certificate as a Specialist in Periodontics, as well as her Master of Science degree.

With 18 years of experience in teaching and private practice restricted to prevention, diagnosis and treatment of periodontal diseases, Dr. Brender is also a member of the Comission for the National Plan on Oral Health at the Colegio de Cirujanos Dentistas de Costa Rica and an International Member of the American Academy of Periodontology (AAP).
Meet our Team
Andrea Acosta
Patient Coordinator
Graduated from the University of Costa Rica with an MBA, her job is to watch over all of our patients, by assisting them and their families before, during and after their trip with consultations, treatment plans, estimates and travel arrangements.
Dayana Solís.
Administrative Assistant
Her work at Advance Dental covers both administrative duties as well as customer service, and she will gladly help Patients and anyone who enters our office by answering any question or addressing any concern.
Susan Román
Dental Assistant
She graduated from the Facultad Autónoma de las Ciencias Odontológicas as a Dental Assistant. Her job at Advance Dental Costa Rica is to support in the area of dental rehabilitation.
María José Carvajal L.
Dental Technician
Graduated from the Universidad Americana (UAM) as Dental Technician specialized in restorative treatments, she works as a Dental Technician giving immediate support, given the fact the lab is located within the facilities of the clinic. This fact makes the work of the dentists and specialists more efficient.